Baby Shower Party Pack
Prefect for the those hosting a baby shower for family, friends, or co-workers.
The Baby Shower Party Pack includes one Baby Tree Gift Kit for the guest of honor and 10 Baby Tree Kits to give to party attendees as favors or prizes.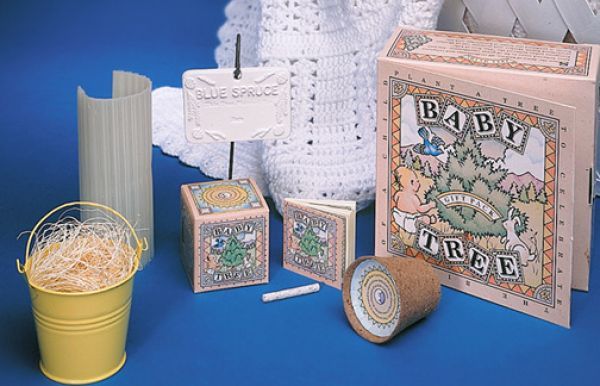 Baby Tree Gift Kit
Our Baby Tree Gift Kit contains the following:
Baby Tree

Peat Pellet

Decorative Tin Pail

Tree Stake

Fertilizer Stick

Tree Protector

Plaque for tree marking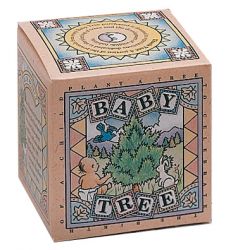 Baby Tree Kit

Celebrate the birth of a child with a symbol that will last a lifetime. Baby Tree is a Blue Spruce tree seed kit designed as a gift for newborns. Baby tree kits make great eco-friendly baby shower gifts or favors.
Gift Wrapping Options available (additional costs apply)
Personalized Note: Single card to go with gift kit $0.75 and/or Cards to go with each guest tree (10 cards) $7.50
Custom 2.5" card can be personalized with the message of your choice.
Cotton Gift Bags for each guest tree kit: $20.00 (10 bags)
Give your gift in a cotton drawstring gift bag. Each bag holds one tree kit. Gift bags will arrive in the box with tree kits for the customer to assemble upon arrival.
International Orders: Tree In A Box currently ships only to US and Canadian addresses. We have some capabilities to ship to other countries, please contact us if you are outside the US or Canada and we will look into regulations for shipping our product to your location.
Orders being shipped to Canada require a USDA Phytosanitary certificate. The cost for this certificate varies based on the total order amount, $61 for orders valued at $1,249 and under and $106 for orders valued $1,250 and over. This fee is shown as a handling fee in your shopping cart.

Please note that there may be additional duties and taxes due on your end. Once the product is in your country, we have no control over the length of time it will take for it to clear customs.
Save
Save